Leah Andelsmith | December 4th, 2018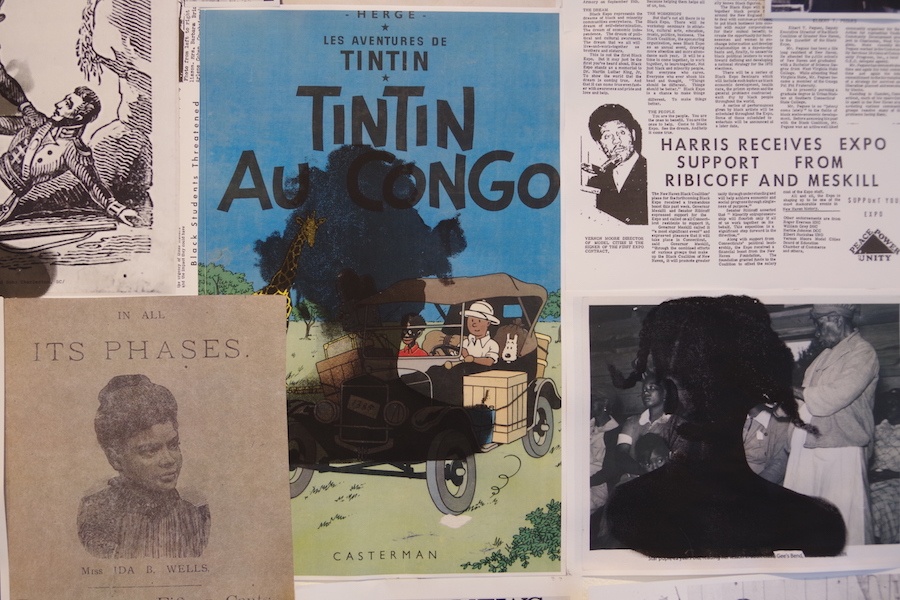 The first thing to catch my eye is the hair—braids, and ponytails, and puffs. It's an image of a woman's head and shoulders that looks almost flat, as if it was created by a stencil and black paint. But it's a screenprint, not a stencil, which gives more nuance—the shape of her ear, the light shining on the nape of her neck. She's facing away from the viewer. In the background, a newspaper bearing the headline "Truman Wipes out Segregation in Armed Forces" is in bold, black letters. There's a movie poster for "Clansman, or Birth of a Nation."
Adama Delphine Fawundu's In the Face of History is just one work featured in Artspace New Haven's new exhibition In Plain Sight/Site, running through March 2, 2019. Curated by Niama Safia Sandy, In Plain Sight/Site examines the global impact and long-lasting repercussions of the transatlantic slave trade, and the dispossession of Indigenous peoples. It also underlines New England's role in those systems.
"I am driven by a need to venerate and make tangible the hidden stories of those whose backs this world is built upon," Sandy wrote in Ripple Effects, an essay that accompanies the exhibit. "In Plain Sight/Site is titled as such to invoke the power of place and vision."
Standing in front of In the Face of History during a press preview last week, Sandy explained Fawundu's process.
"Every time she travels, she tries to go to whatever archive is nearby to pull documents," she said. "This time I asked her to engage with the histories of New England."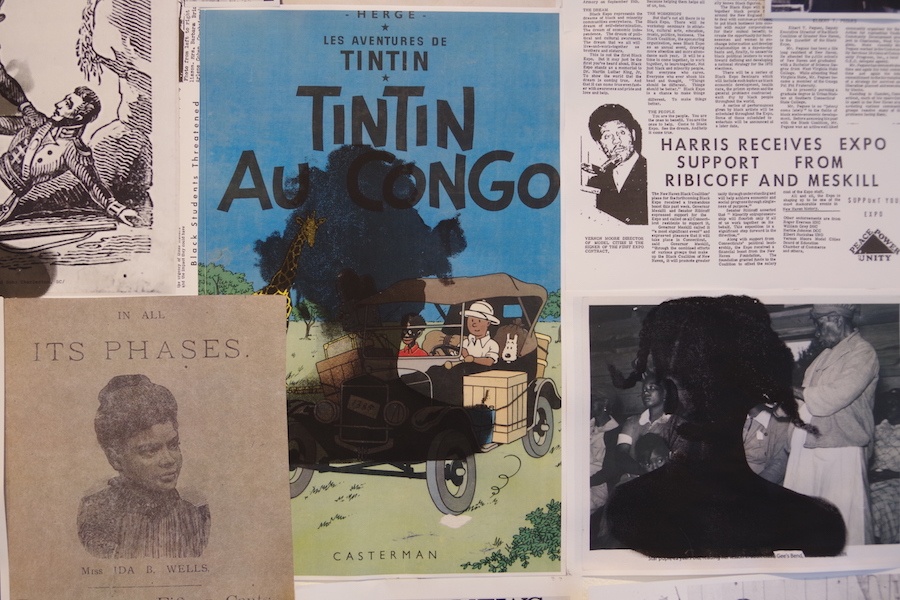 A detail from Adama Delphine Fawundu's In the Face of History. Leah Andelsmith Photo.
She pointed to an early 20th century advertisement for the Black Star Line, a steamship corporation founded by Political Leader Marcus Garvey.
"This was the first one I saw, and I said, 'Can I have a hundred of these?'" she recalled.
Surrounded by in Fawundu's work, there is a feeling of heaviness—no way to get one's arms around all that history. Some moments are small and mundane, some are world-changing.
An everyday article details a lynching and an advertisement proclaims "The Magnificent Painting of the Massacre on board the Amistad." Suffragettes march in the streets. Black protesters picket outside a screening of Gone with the Wind. Shirley Chisholm makes a campaign speech.
With a screenprint, Fawundu has placed the Black gaze on all of that history, all the good and the bad, the hard-won victories and the constant indignities. And there's something empowering in that. There's an unspoken commentary on each image, a silent judgement passed by the figures. These Black women are in the driver's seat. The images touch and sometimes obscure the text itself. Fawundu seems to be saying: "I won't let us be invisible anymore, because we were there."
Full Article: https://www.newhavenarts.org/arts-paper/articles/in-plain-sight-artspace-lays-history-bare